The first Industrial Digital Printing Line at Kaisersesch had a successful start. That is why Classen decided to invest in a second and third Hymmen-Line type JPT-C 1400 for the same production site. By now Classen has 4 Industrial Digital Printing Lines of Hymmen in the company over all.
Everything started with a joint R&D-project at the Hymmen laboratory in Bielefeld. Now Dr. René Pankoke, CEO and president of Hymmen, points out: "We are happy to offer Classen with our Industrial Digital Printing Lines sustainable support for a highly innovative product strategy!" Classen produces laminate- und LVT- flooring with the high-technology lines. These floorings are new product developments by Classen, which are very successful at the market.
Hymmen supplies far more than the Single-Pass-Digital Printing: Over all the lines are 86 m long. They include the automatic board feeding, the liquid coating with UV-drying in the primary coating segment, the Single-Pass Digital Printing Line JPT-C 1400 for printing on woodworking- or plastics-boards, the liquid coating at the multilayer-finish coating segment, die automatic stacking as well as the piloting of the whole line. Everything from one single source – Hymmen.
The Digital Printing uses the four colors CMYK and can be extended up to 10 colors max. The printed area can cover 1.280 mm width and 2.600 mm length on the board. Hereby the lines have a maximum speed of 25 m/min with the best resolution – optically more than 1000 dpi. This corresponds to 360 dpi with eight greyscales.
Parallel to the everyday-production process of the first line, line two and three will be mounted and start production in the second half of 2015. Right from the beginning these new lines are equipped with 8 from possibly 10 colors for the Single Pass Industrial Inkjet. They include analog to the first line the whole coating process from the automatic feeding up to the automatic stacking in the end of the production process. "With these lines, over all we have placed 28 Industrial Digital Printing Lines at the market," summarizes Pankoke the positive development of Hymmen´s business area Industrial Inkjet.
Für weitere Informationen siehe auch: www.hymmen.com.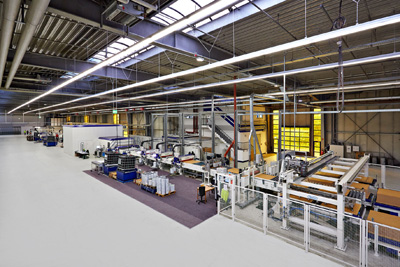 86m high-tech: automatic feeding, primary coating, digital printing, finishing and stacking by Hymmen
A digitally printed and finished flooring board by Classen